Choosing The Best USB Portable Heated Blanket For Winter Camping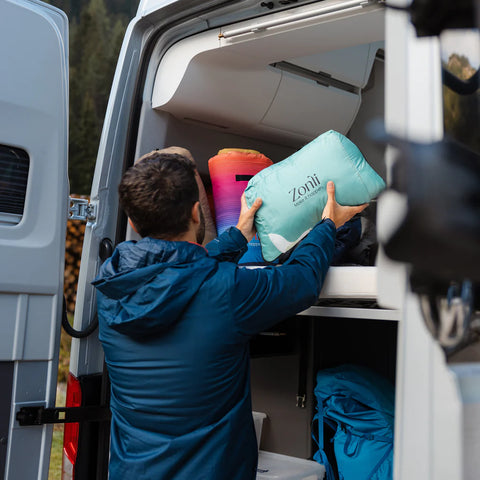 Are you passionate about camping? Do you find yourself feeling chilly when the nighttime temperatures dip inside your tent, yet you want to avoid carrying bulky blankets?
 
Your worry is completely valid. Camping, at its essence, is about simplicity, but it's common to overestimate your necessities and overpack. Nevertheless, staying warm is crucial. The key to a stress-free and lighter camping experience lies in packing smart and practical items. If you're aiming for a lightweight approach on your next camping adventure, a USB portable heated blanket is the perfect solution!
Why You Should Bring Your USB Portable Heated Blanket for Winter Camping?

If you're really going to invest in a USB portable heating blanket, then you'd better do some research to make sure it's the absolute best portable heating blanket for you. (No, it doesn't have to be the best heating blanket in the world, as long as it meets your needs). So it pays to take some time to think about your needs.

Fight Chilly Nights: Winter camping often means cold temperatures, especially at night. the USB portable heated blanket provides reliable warmth that can be used up to 14°F to help you stay cozy and comfortable in your tent.
 
Lightweight And Compact: Unlike traditional bulky blankets, USB heated blankets are designed to be lightweight and compact, making them easy to carry in your camping gear. They don't add too much weight or take up valuable space in your backpack.
 
Energy Efficient: USB heating blankets are extremely energy efficient and can be powered by a variety of sources, such as mobile power or solar chargers. A single 20,000mAh rechargeable battery can heat you up all night, meaning you can stay warm without draining your camping gear.
 
Versatile: These blankets aren't limited to the tent. You can sit around the campfire, use them as a picnic mat while preparing a meal, or even use them in your sleeping bag for extra warmth. Their versatility is unmatched by standard blankets.
 
Emergency Backup: USB heated blankets can also be used as an emergency heat source when needed. In the event of unexpected weather or equipment failure, having a heated blanket on hand can be a lifesaver, ensuring your safety while camping in the winter.
How to Choose the Best USB Portable Heated Blanket for Winter Camping?
Size: The size of the blanket matters because it should fit comfortably in your camping gear and provide adequate coverage for your body. A compact size is preferable for easy transport.
 
Weight: Weight is crucial for backpackers and hikers. A lightweight blanket won't add significant bulk to your load, making it easier to carry during your winter camping adventure.

Practical: Consider the practicality of the blanket. Does it offer adjustable heat settings? How long can it be powered by various sources? These practical features enhance its usability.
 
Space: How much space can it take up? The best compact USB portable blankets will only take up the smallest portion of your packing space. If you unpack your carry-on and realize that half of it is filled with blankets, you haven't thought this through. Of course, if you're driving to camp, grab a big one and throw it in the trunk!
 
Packing: Consider how easy it is to pack the blanket. Look for blankets that fold or roll up neatly and can be stowed away without taking up too much space in your backpack.
 
Texture: The texture of the blanket affects comfort. Choose a blanket with a soft and comfortable texture that feels pleasant against your skin.
 
Washing: Check the care instructions for the blanket. Ideally, a USB heated blanket for camping should be easy to clean and maintain, as camping gear can get dirty. Machine-washable blankets are convenient.
 
Style: While not the top priority, the style of the blanket can still be a factor. Choose a design or color that suits your personal preferences, especially if aesthetics matter to you.
Best USB Portable Heated Blanket options
Here are some of the best Zonli USB portable heated blankets: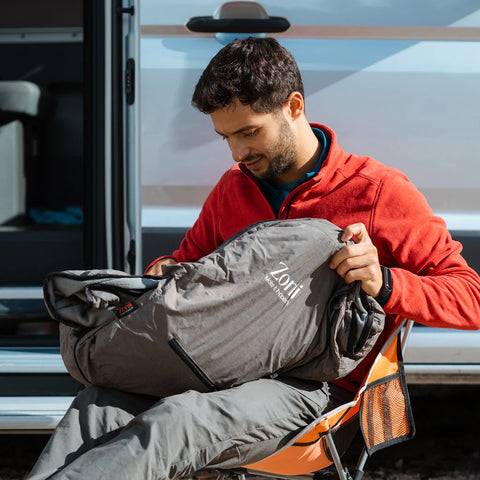 √  The Z-Walk USB battery heated blanket is ultra-light, compact and portable . An absolute favorite!

√  The Z-Walk USB heated blanket measures 50 x 63 in, folds down nicely and compactly into a mere 6x9 x 12.5 in, so it won't take up too much space in your bag.

√  Made from a 200gsm polar fleece, the Z-Walk USB heated blanket will keep you nice and warm while its all weather-resistant fabric can keep you dry and clean at any condition. This lightweight warm USB heated blanket is also machine-washable and fast drying, so its easy to keep clean.

√  The Z-Walk USB heated blanket comes in a range of great prints and is the perfect lightweight, warm blanket for camping, stadium and car travel. It also comes with a 5000mAh battery, making it heating for up to 3 hours.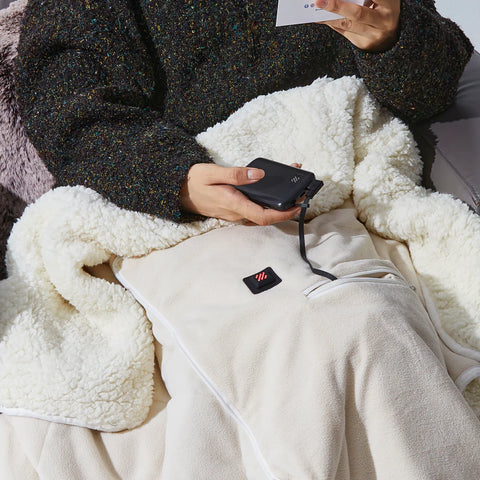 √  If cozy texture is what you're looking for, this one is designed to keep you warm in drafty air.
 
√  Made from 100% polyester, this blanket is super lightweight and can be folded as a pillow when you want to save more space. The blanket only weighs 2 lbs, and when opened measures 50 x 60 in , so a good size to keep your body nice and warm.
 
√  You'll also love how this blanket can be both machine washed . This is perfect for camping night as you can use it as both pillow, blanket and a shawl.
 
√  This 3-in-1 USB heated blanket comes in a range of 2 colors and is also quite inexpensive, perfect if what you're looking for is one of the economical portable heated blankets.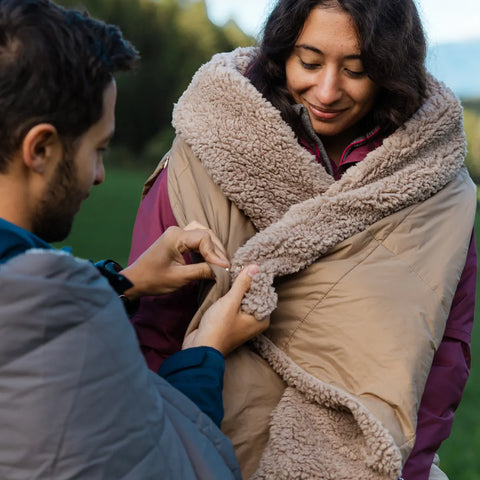 √  If you're after a wearable heated blanket, consider this Z-Walk Cocoon blanket. 
√  With two zippers, this wearable blanket is lightweight and provides great coverage like cocoon when used as a long vest - measuring 50 x 60 in when completely opened. The blanket compresses down into its own stuff sack, making it easy to hang on your carry on luggage or backpack. 
√  Like a sleeping bag, these machine washable blankets have an exterior made from durable, water-resistant fabric. For insulation, these blankets features cozy cotton fleece inner, keeping you warm, comfortable and relaxed.