NFL Superfans: How to Survive Sitting in the Bleachers This Winter?
For die-hard NFL fans, the thrill of watching a live game, feeling the energy of the crowd, and cheering on your favorite team from the stands is unparalleled. However, as winter approaches and temperatures drop, sitting in the bleachers can be a challenge. Fear not, NFL superfans! We've put together a survival guide to help you stay warm, enthusiastic, and energized for those chilly winter games.
The key to staying warm in winter is layering. Start with a moisture-wicking base layer to keep sweat away from your skin. Add an insulating layer for warmth, and finish with a waterproof and windproof outer layer to shield yourself from the elements. Don't forget gloves, a beanie, and a scarf to keep your extremities cozy.
Invest in Heated Apparel and Blankets
Embrace modern technology with heated apparel. Battery-powered heated jackets, vests, and even seat pads can provide a constant source of warmth, allowing you to enjoy the game without shivering in the cold. A portable heated blanket powered by battery can truly transform your game day experience. With a compact 5000mAh power bank, these portable blankets ensure warmth throughout the entire game. These items are specifically designed for outdoor enthusiasts and can make a significant difference in your comfort level.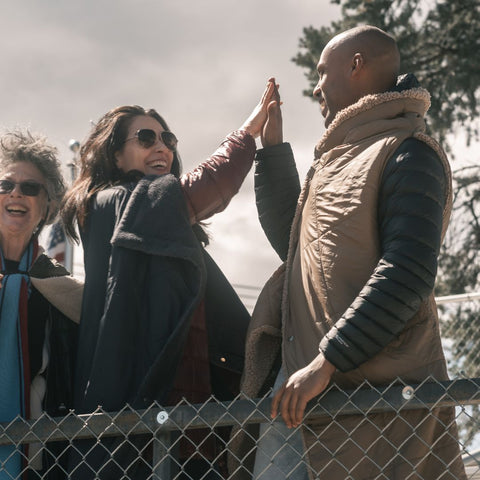 Pack Warm Beverages and Snacks
Warm up from the inside out by packing a thermos of hot coffee, tea, or soup. Not only do these beverages keep you warm, but they also provide a delightful way to stay energized throughout the game. Additionally, bring along snacks that are high in protein and carbohydrates to fuel your body and generate heat.
Portable Shelter Solutions
Consider investing in portable shelter solutions like pop-up tents or lightweight canopies. While these might not be allowed in all stadiums, they can be a game-changer if permitted. They provide a shield against wind and snow, creating a cozy space where you and your fellow fans can huddle together and enjoy the game in relative comfort.
Hand and Foot Warmers
Disposable hand and foot warmers are a superfan's best friends in winter, keeping all your fingers and toes as you cheer on your team. Slip them into your gloves, socks, or pockets for instant warmth. They are small, affordable, and can last for several hours, ensuring you stay toasty even in the coldest weather.
Stay Active and Engaged
Keep your body moving during breaks and halftime. Stand up, stomp your feet, and do some light exercises to get your blood circulating. Engaging in the game, cheering, and clapping also generate body heat, so don't hold back your enthusiasm!
Conclusion
Being a dedicated NFL superfan doesn't have to mean enduring freezing temperatures uncomfortably. With the right preparation and mindset, you can brave the winter weather and continue to support your team passionately. So, gear up, stay warm, and let your spirit shine as you cheer your team to victory from the bleachers this winter! Remember, true fandom knows no temperature limits.
Frequently Asked Questions
Why watch football in a stadium?
Watching football in a stadium offers a unique and immersive experience that cannot be replicated elsewhere. It offers fans an emotional connection to the game, a sense of belonging, and an unforgettable experience that goes beyond just watching the match on television.
Where is the best seat to watch football in a stadium?
The ideal seat for you is the one that aligns with your preferences and the kind of experience you desire. Whether you seek proximity to the players, a strategic perspective, or the vibrant ambiance of fervent fans, there are choices to cater to your tastes. When considering your options, seats in the corners and the higher rows of the end zone are recommended. Among these, corner seats generally provide a superior view of the game.
Are heated jackets allowed at NFL games?
Rules and regulations regarding items allowed into NFL stadiums vary. Certain stadiums, like FirstEnergy Stadium, may explicitly allow heated jackets, whereas others such as MetLife Stadium or Highmark Stadium might impose restrictions on specific types of heated coats.
Do any NFL stadiums have heated fields?
Some stadiums use heating systems under the turf to prevent freezing, this technology is primarily designed to keep the field playable in cold weather, rather than to provide a consistently warm surface.
For the most current and specific information on NFL stadium amenities, including heated fields, we recommend checking the official websites of the individual stadiums or contacting their management directly for the latest updates.
How do you keep your hands and feet warm in a stadium?
To keep your hands warm, we recommend opting for mittens instead of gloves. For your feet, it's essential to keep them dry. Consider wearing moisture-wicking athletic socks underneath a layer of wool socks to ensure your feet stay warm and dry.