Fun Halloween Outdoor Games and Activities for Kids and Adults in 2023
Ready to take your Halloween celebration to a whole new level of excitement in 2023? While the most classic Halloween celebration is Trick or Treating, have you tried any other fun activities?
We've handpicked a selection of Halloween-themed celebrations that are guaranteed to bring you laughter, thrills and unforgettable memories. Whether you're looking to please little ghouls and goblins, or you're looking for creepy entertainment for a grown-up party, these outdoor games will turn your Halloween into a night of unrivalled fun. So grab your costume, gather your friends and family, and get ready to experience Halloween like never before!
Pumpkin Putt-Putt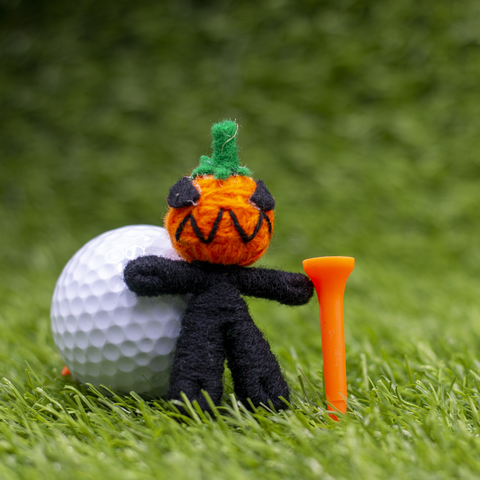 Perfect for school parties, trunk or treat events, or simply keeping kids entertained. The best part? It's incredibly easy and reusable year after year.
Here's what you'll need(reference video):
Carve a pumpkin.
Place the pumpkin on a flat surface.
Explain to players that the goal is to putt the golf ball from their chosen foul line into the pumpkin's mouth.
Provide each player with a putter and a golf ball.
Enjoy the Halloween fun with this engaging and easy-to-set-up game!
Pumpkin and Witch's Broom Race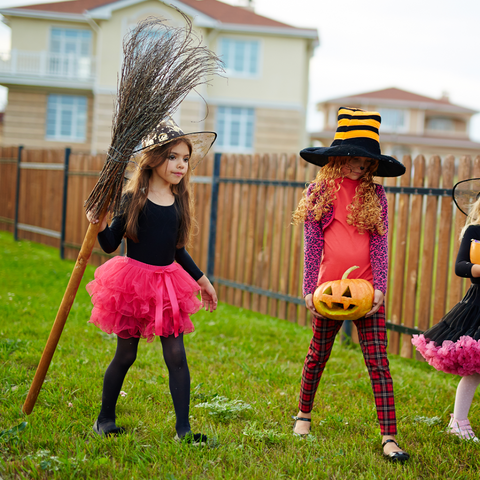 In this game, each team needs a broom and a small pumpkin. Divide the players into teams and mark the start and finish points. Each participant plays the role of a witch and must use the broom to push or roll the pumpkin to the finish line and then pass the pumpkin to the next witch. The first team to complete the race wins! Alternatively, you can time each team to see how quickly all the witches complete the task.

Go on a Ghost Hunt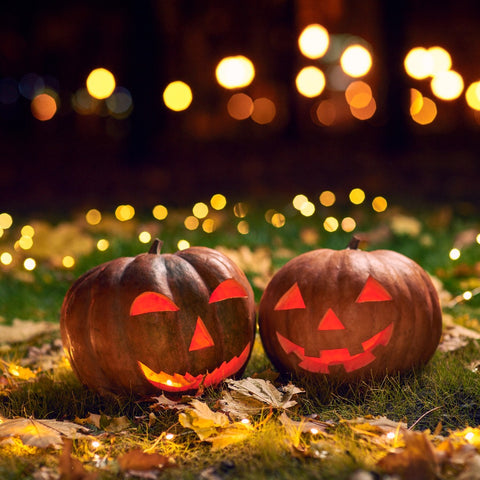 If witches don't appeal to you, you may want to consider taking part in a ghost walk, ghost hunt or an evening listening to ghost stories around a campfire. For a slower paced experience, zombies or those who prefer fewer activities may enjoy a spooky bus tour. For a cosy, intimate gathering, grab a book of ghost stories, set up a bonfire in the garden and sit around in the dark, reading eerie tales together. For a more adventurous experience, venture out to a local haunted place to see if the legendary stories are true.


Making Science Potion
For younger kids, making science potions with a Halloween twist would be the perfect activity (apart from the mess).⠀⠀⠀⠀⠀⠀
You can choose from different ingredients:
-Baking soda.
-Vinegar dyed with food colouring
-Shaving cream
-Disc soap
-Cornstarch.
Plus eyeballs, cauldrons, spiders, peri bottles, stirrers, spoons and bath towels as mats. Because kids love open science like this. We saw a mess. They saw endless possibilities. Just carefully move everything to the bathroom and rinse it off in the tub. Since everything cleans up quickly.
Outdoor Movie Night
 An outdoor movie night can be a fantastic Halloween activity. Imagine watching classic or spooky Halloween movies under the open sky, surrounded by the crisp autumn air and perhaps some creatively placed decorations. It provides a cozy and communal atmosphere, making it perfect for families, friends, or neighborhood gatherings. Just make sure to have warm blankets, comfortable seating, and some Halloween-themed snacks to enhance the experience. You could even project the movies onto a screen or a blank wall in your backyard for a true outdoor cinema feel.
Here are some movie suggestions for an outdoor movie night suitable for adults, families, and kids:
For Adults:
Halloween Classics:
Hocus Pocus (1993)
Beetlejuice (1988)
The Nightmare Before Christmas (1993)
Ghostbusters (1984)
Thrillers:
Psycho (1960)
The Sixth Sense (1999)
Get Out (2017)
A Quiet Place (2018)
Comedies:
Shaun of the Dead (2004)
Young Frankenstein (1974)
Scary Movie (2000)
For Families:
Animated Fun:
Coco (2017)
Monster Family (2017)
Hotel Transylvania series
ParaNorman (2012)
Adventure and Fantasy:
The Goonies (1985)
Harry Potter series
The Addams Family (2019)
Friendly Ghosts:
Casper (1995)
The Haunted Mansion (2003)
For Kids:
Animated Delights:
Spookley the Square Pumpkin (2004)
Room on the Broom (2012)
It's the Great Pumpkin, Charlie Brown (1966)
Silly and Spooky:
Monster Family (2017)
Scooby-Doo animated movies
Frankenweenie (2012) 
Decorate Your Garden or Outdoor Space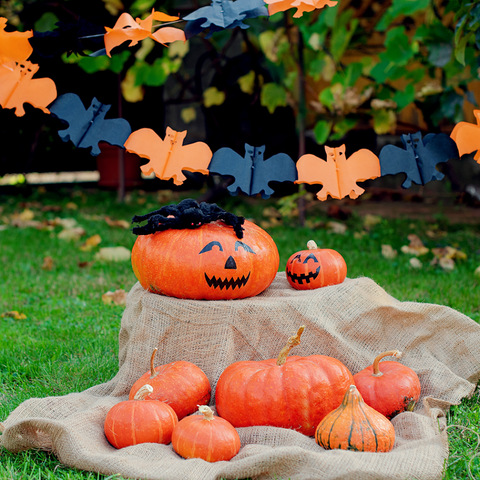 Decorating your garden or outdoor space for Halloween can be a fun and creative way to celebrate the season and create a spooky atmosphere. Here are some ideas on how to decorate:
Pumpkin Patch: Place carved or painted pumpkins around your garden. You can create various designs, from classic Jack-o'-lanterns to intricate patterns.
Spooky Lighting: Use string lights, lanterns, or candles to create an eerie ambiance. You can opt for orange or purple lights to enhance the Halloween theme.
Ghostly Figures: Hang ghost-shaped decorations from trees or place them strategically in your garden. These can be made from cloth, paper, or other materials.
Creepy Creatures: Incorporate fake spiders, bats, crows, or skeletons into your garden. You can position them on fences, trees, or in flower beds.
Haunted Pathways: Line your garden paths with faux tombstones, lanterns, or glowing eyes to create a haunted trail effect.
Remember to ensure safety when using candles or other open flames, and consider the local guidelines and weather conditions while decorating your outdoor space. 
Outdoor Cooking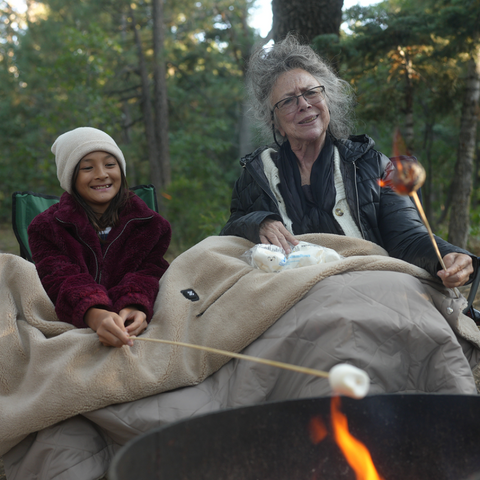 Cooking outdoors, especially on a fire pit or grill, adds to the charm of the Halloween atmosphere. The smell of grilled food and the warmth of the fire create a cosy and inviting atmosphere.
You can design your menu around a Halloween theme. Think of creative names for dishes such as "Monster Burger", "Mummy Dog" or "Witch Stuffed Stew". You can even try your hand at making spooky shaped treats or desserts.
Plus, activities involving roasting marshmallows or making caramel apples are an interactive and engaging experience for kids and adults alike. While cooking, you can share spooky stories around the campfire. This adds a traditional camping element to your Halloween celebration.


Conclusion

In conclusion, Halloween isn't just about the costumes and candies; it's about creating magical moments and cherished memories. As we venture into 2023,remember, it's not just about the scares, but the joy and connection that these activities bring. So, gather your loved ones, don your spookiest attire, and let the Halloween magic unfold. Happy Halloween!