2023 Grandparent's Day Guide: Celebration, Gift Ideas & Activities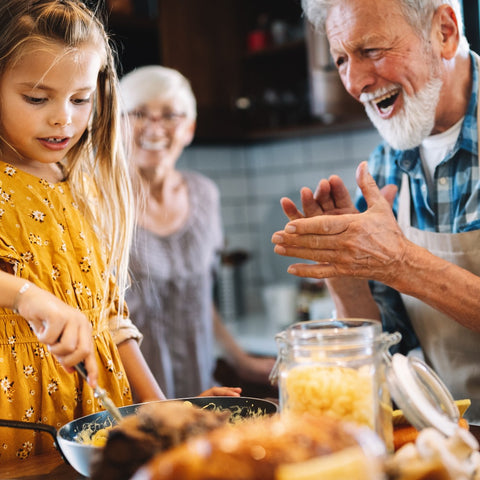 While we diligently mark Mother's Day and Father's Day on our calendars, it's easy to overlook National Grandparents Day in 2023. So, when is National Grandparents Day 2023? Mark your calendars for Sunday, September 10th! Make sure you don't miss the chance to celebrate the exceptional grandparents in your life.
 
No matter the generation gap, grandparents an d grandchildren often share an incredibly strong bond. These cherished family members deserve some extra love from time to time. And what better occasion than their very own National Day? We offer a variety of gifts and activities that you can share with your grandparents to express your deep love and appreciation.
When is Grandparent's Day?

In the United States, Grandparents' Day is celebrated on the first Sunday in September after Labor Day. This means that the date of Grandparents' Day changes from year to year. It's always on a Sunday, but the specific date can vary. The 2023 Grandparents' Day is September 10
th
.
Why We Celebrate Grandparent's Day?
Grandparents' Day was officially recognized as a holiday in the United States in 1978. President Jimmy Carter signed a proclamation designating the first Sunday after Labor Day as National Grandparents' Day.
 
The holiday's creation is largely attributed to the efforts of Marian McQuade, a West Virginia homemaker. She started advocating for a day to honor grandparents in the early 1970s, with the goal of encouraging families to visit and spend time with their elderly relatives.
 
In 1973, Senator Jennings Randolph of West Virginia introduced a resolution in the U.S. Senate to establish Grandparents' Day as a national holiday. The resolution passed, and President Carter's proclamation solidified it.
 
The establishment of Grandparents' Day was driven by the desire to recognize and celebrate the important role that grandparents play in the family structure and to encourage intergenerational connections. It serves as a day to express love, gratitude, and appreciation for the wisdom, guidance, and love that grandparents provide to their grandchildren and families.
15 Activities to Do for Grandparent's Day
Grandparents' Day is an ideal occasion to create special memories and celebrate the unique bond between grandparents and grandchildren. Here are some activities to consider for Grandparents' Day:
Family Gathering: Host a family get-together or meal, whether it's a brunch, picnic, or dinner. This provides an opportunity for the whole family to come together and celebrate.
 
Photo Sharing: Go through old family photo albums and reminisce about special moments captured in photographs. Share stories behind the pictures.
 
Storytelling: Encourage grandparents to share their life stories, memories, and experiences with the grandchildren. You can even record these stories for future generations.
 
Outdoor Activities: Depending on their mobility, consider outdoor activities like gardening, taking a nature walk, or enjoying a day at the park.
 
Gift Giving: Surprise grandparents with thoughtful gifts that cater to their interests or needs. Consider personalized items or sentimental gifts.
 
Letter Writing: Have the grandchildren write heartfelt letters or create handmade cards expressing their love and gratitude to their grandparents.
 
Games and Puzzles: Play board games, card games, or work on puzzles together. Games can be a source of fun and friendly competition.
 
Music and Singing: Share musical talents or simply listen to favorite songs. Music can evoke strong emotions and create joyful memories.
 
Video Calls: If distance separates you, arrange a video call to connect with grandparents and celebrate virtually. Share stories, laughs, and updates.
 
Family History: Explore your family's genealogy and history together. Discuss family origins, traditions, and heritage.
 
Volunteer Together: Participate in volunteer activities as a family, such as visiting a nursing home, helping a local charity, or engaging in community service.
 
Reading: Read books together, especially if there are favorite childhood books or stories that grandparents can share with their grandchildren.
 
Visit a Special Place: Take a trip to a place that holds sentimental value for the grandparents, such as their hometown or a significant location from their past.
20 Meaningful Gift Ideas for Grandparent's Day
When selecting meaningful gifts for Grandparents' Day, it's essential to consider your grandparents' interests, preferences, and personalities. Here are some thoughtful gift ideas that can convey your love and appreciation:
 
Personalized Photo Album: Create a custom photo album filled with cherished family memories, or select an album featuring their favorite photos.
 
Handmade Scrapbook: Craft a scrapbook that captures special moments, milestones, and family history through photos, mementos, and captions.
 
Customized Jewelry: Consider personalized jewelry, such as a necklace, bracelet, or locket, engraved with the names or birthstones of their grandchildren.

Thoughtfully Chosen Blanket: A blanket, especially a portable heated blanket, can make an excellent and thoughtful gift for Grandparents' Day, preparing your grandparents' for the upcoming cold weather.

Custom Family Portrait: Commission a family portrait or have one of your favorite family photos professionally framed.
 
Recipe Book: Compile a collection of family recipes, including their own, in a beautifully designed cookbook.
 
Keepsake Box: Gift a decorative keepsake box where they can store treasured mementos, letters, and small items.
 
Handwritten Letters: Write heartfelt letters expressing your love, gratitude, and fond memories. Place these letters in a special envelope or journal.
 
Customized Calendar: Create a personalized calendar featuring family photos, birthdays, and important family events.
 
Memory Jar: Decorate a memory jar and provide slips of paper for your grandparents to jot down their favorite memories or moments.
 
Family Tree Art: Commission a family tree artwork or craft one yourself, adding the names and birthdates of family members.
 
Subscription Service: Consider a subscription to a magazine, streaming service, or book club tailored to their interests.
 
A Plant or Garden Gift: Gift a potted plant, indoor garden, or a tree to plant in their yard as a symbol of growth and longevity.
 
A Digital Picture Frame: Load a digital picture frame with a collection of family photos that can rotate and display memories throughout the year.
 
A Relaxation Gift: Provide a spa day package, massage certificate, or a cozy blanket and scented candles for relaxation.
 
Technology Assistance: Offer to set up and teach them how to use technology like a tablet or smartphone for video calls and digital communication.
 
Books: Select a book by their favorite author, a bestseller, or a book related to their hobbies or interests.
 
A Handwritten Family Tree: Handwrite a family tree on a large poster or canvas, creating a visual representation of their family's history.
 
Experience Gift: Consider gifting an experience such as tickets to a concert, theater show, or a day trip to a place they love.
 
A Donation in Their Name: Make a donation to a charity or cause that holds significance for them and provide a certificate in their name.
 
Remember, the most meaningful gifts are those that come from the heart and show that you've put thought into celebrating your grandparents on their special day.