Heated Weighted Blanket-20lbs-10 Heating Levels-12 Hours Auto
---
Description

As the weather starts to cool down, nothing's better than warming up with a pumpkin spice latte and a super soft throw. As far as cozy blankets are concerned, two of the most popular options during the cooler months are electric blankets, which provide added warmth and comfort. They also include weighted heated blankets, which feel like a soothing hug. Well, now you can wrap up in a weighted heating blanket.


Features of the Heated Weighted Throw Blanket:



12 Hour Auto off digital controller

10 personal heat setting

Therapeutic warmth

200 GSM Flannel fleece

Machine washable and dry

3 year limited warranty

UL and cUL Listed

Heated weighted heated blankets combine the most desirable features of electric and weighted blankets by providing cozy warmth and anxiety relieving pressure therapy. I love curling up with anything cozy and warm, especially during the chilly fall and winter months. And when my anxiety spikes, my weighted heating blanket is there to wrap around me like a secure hug. This season, take your coziness up a notch by investing in an amazing heated weighted blanket. This Electric Heated Weighted Blanket is as plush and comfy as a weighted heated blanket from Walmart.
Coziest Heated
Weighted Blanket
Coziest Heated Weighted Blanket
Years of iteration and highly specialized knitting technology helped us perfect the science and create our mindblowing fabric.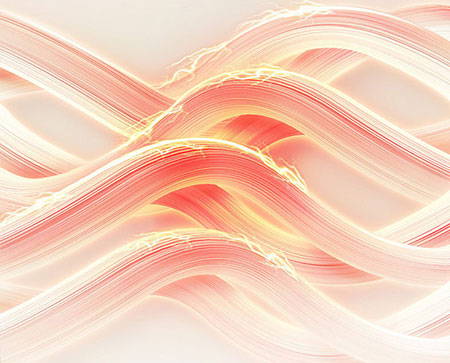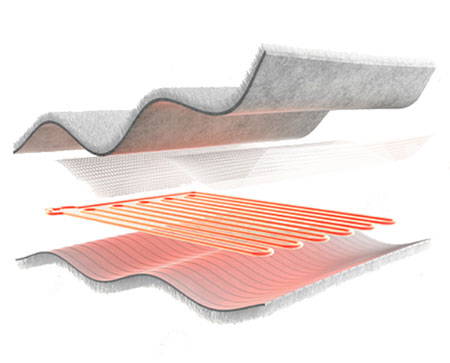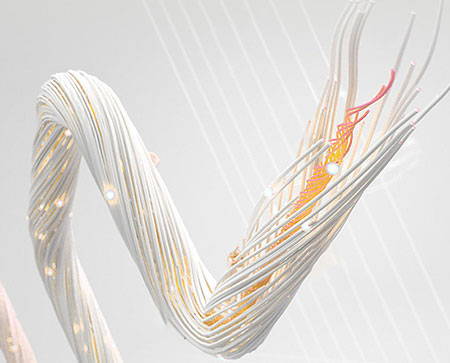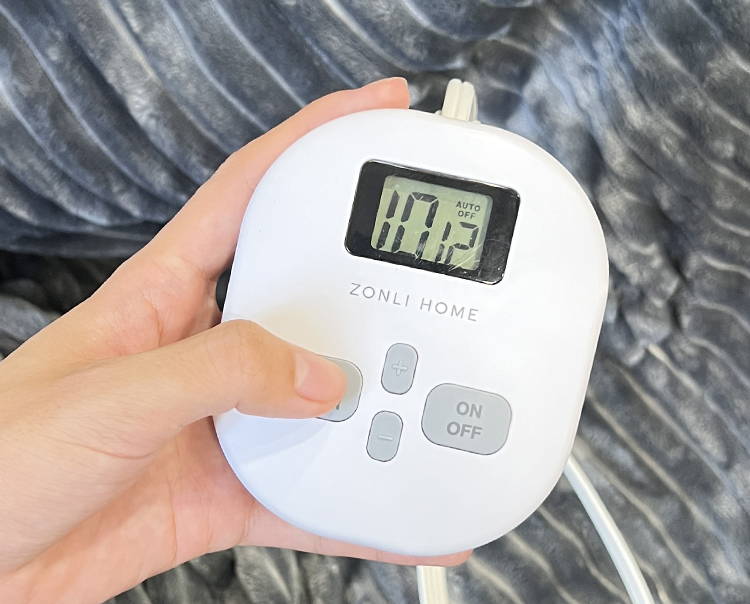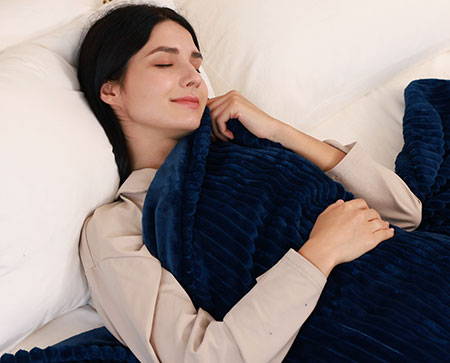 Years of iteration and highly specialized knitting technology helped us perfect the science and create our mindblowing fabric.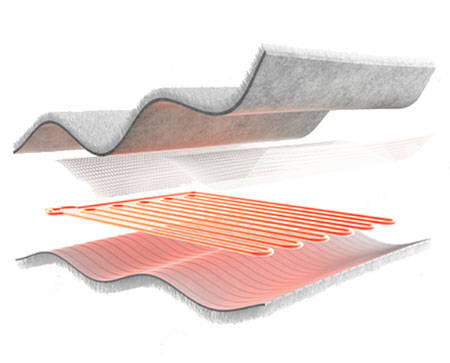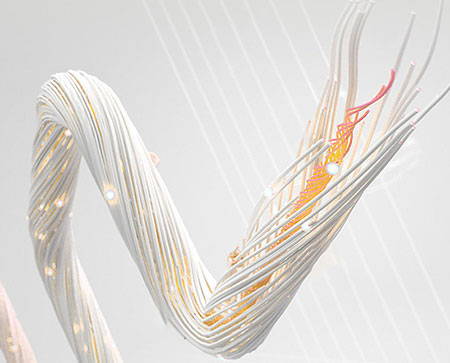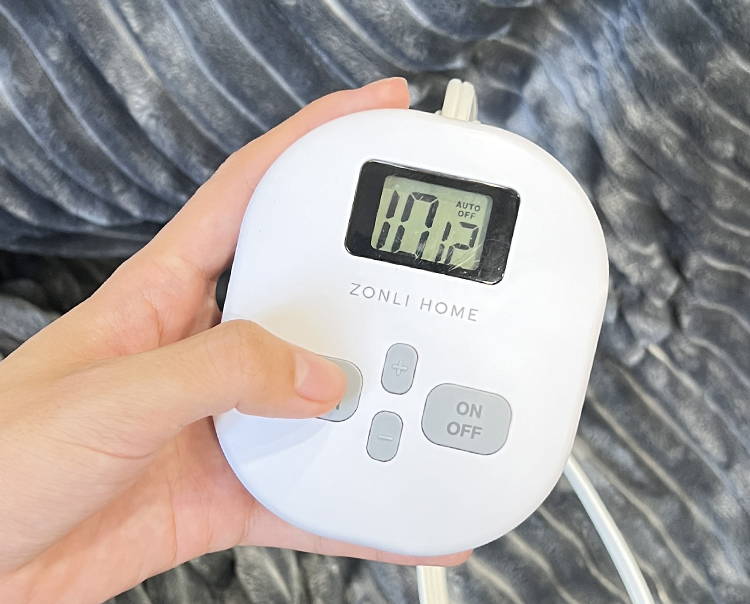 Best Heated Blankets in 2022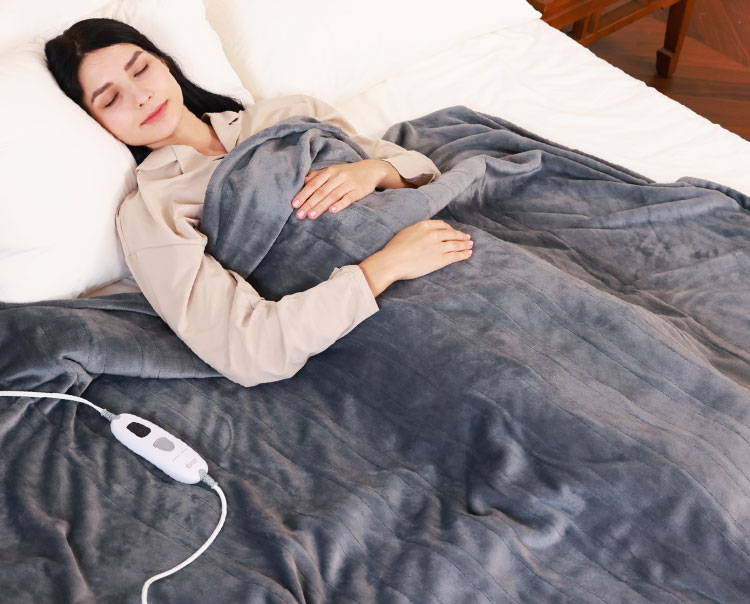 Love weighted blanket but in warm? Meet zonli heated weighted blanket. Feel warm in five minutes with our heated and weighted blanket.
Weighted blankets have a calming effect on the body, applying deep touch pressure to help promote relaxation and restful sleep. Glass beads are sewn inside the throw to give it its weight, and this 2 in 1 throw is also heated keeping you relaxed and warm on winter evenings. Wear it in bed, or wrap it around your shoulders, it can help reduce stress and anxiety to help you sink into a deeper sleep.
Our heated blanket is a perfect combination of warmth, coziness, and luxury. With years of experience making the highest quality heated weighted blankets, we rigorously test everything, from the fabrics to the cables.
10 heat levels make finding the perfect temperature easy. This blanket distributes heat evenly so that you are comfortable at all times.
Double 200 GSM flannel fleece combine with premium glass beads makes our heated blankets warm, breathable, soft.
With a 10 foot power cable, you can use the heated weighted blanket anywhere and adjust it to your comfort. By removing the controller, it can also be used as a regular weighted blanket.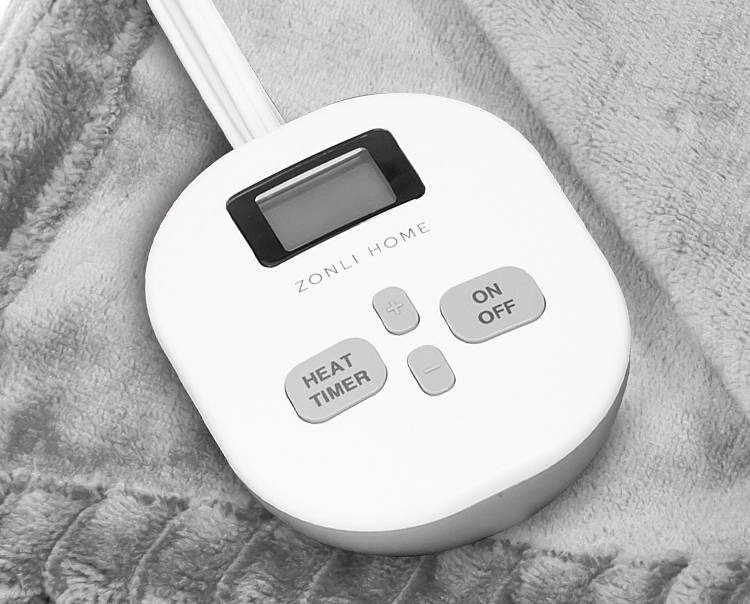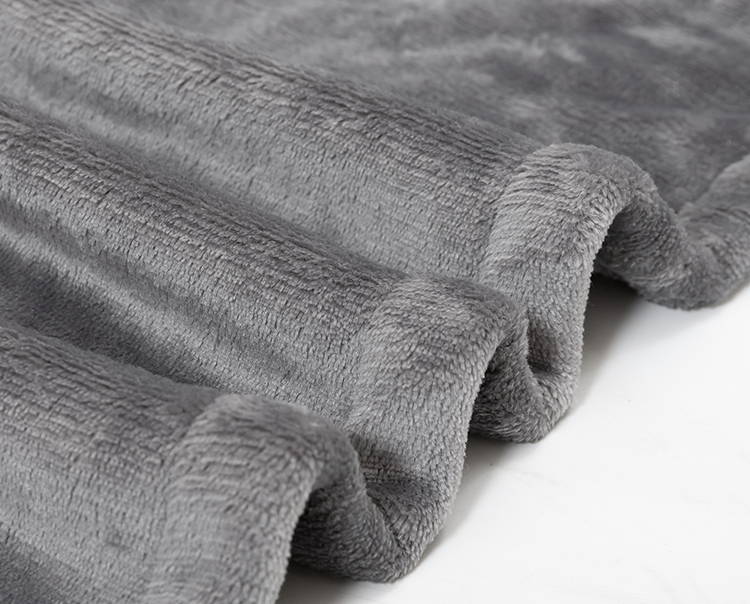 We offer ETL-certified heated blankets. With the ETL-certified heating blanket's built-in overheating protection system, you get consistent, cozy warmth throughout the blanket.
We believe each customer should have a pleasant experience with Zonli, which is why we provide a 3 YEAR LIMITED WARRANTY. We provide customer support and peace of mind to millions throughout the world.
We recommend you wash it by hand and hang it dry. simply detaching the controller first.
We know cleaning a heated weighted blanket is daunting. To make it easier for you, we provide you with a free duvet cover that you can use so that you won't have to worry about dirt stains or odors.
6 Key Benefits Of
Heated Weighted Blanket
For a healthy body and healthy mind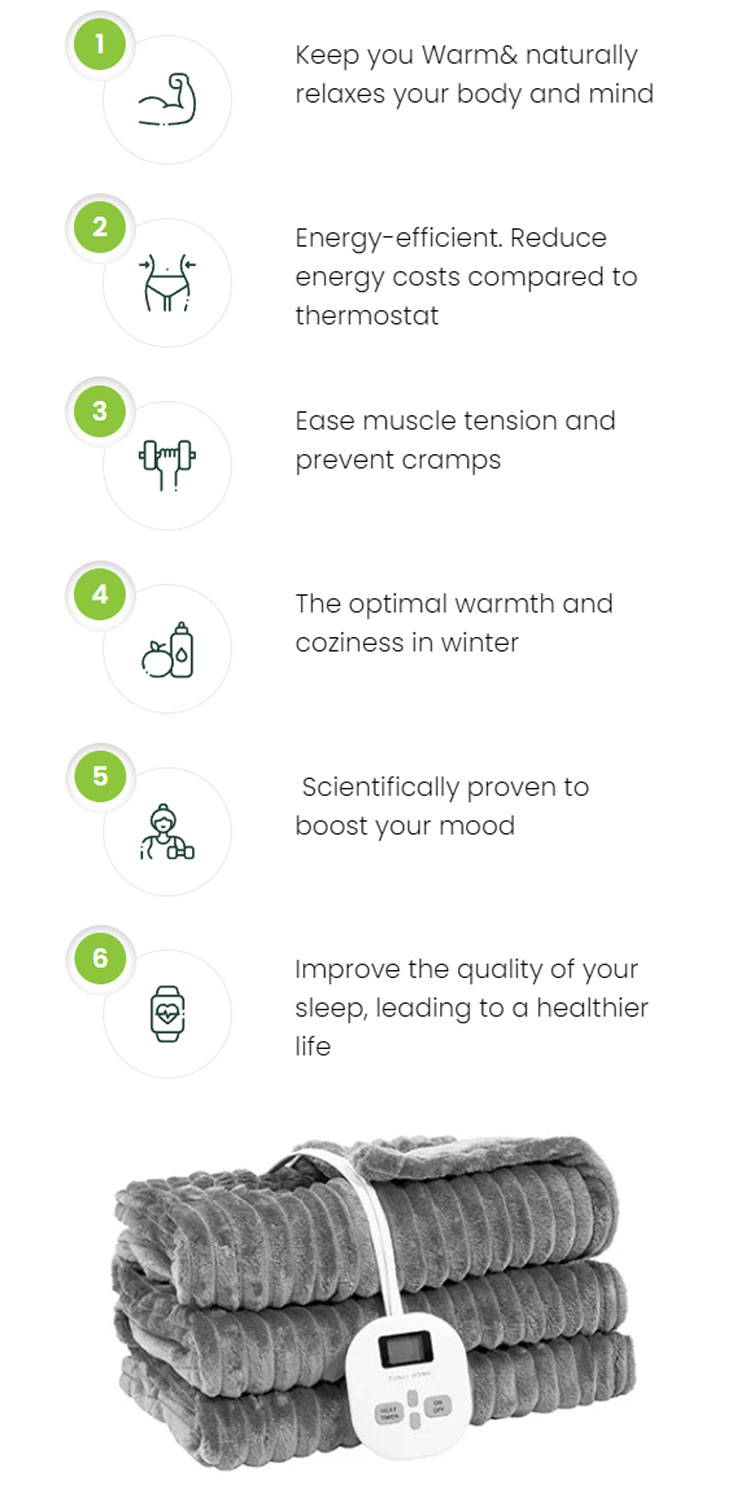 How Much Do Heated Blankets Cost to Run?
Zonli electric blankets use barely any energy as they're heavily insulated by cosy fabric and usually fitted underneath your duvet, it doesn't take much for them to heat up to a comfortable level. Our electric blankets will let you keep warm for around 1p per nightText.
Heated blanket VS thermostat in terms of saving on utility expenses?
Using our heating blanket while turning off your thermostat can save 68-90% a year on your heating bill (based on the size of your electric heated blanket). This is the best way to save money in winter. Turn off the heater now and use our electric blanket and watch the savings grow. Get warm, get cozy with Zonli electric blanket.
Are Heated Blankets Safe?
As long as your blanket is less than 10 years old and isn't threadbare or ripped, then it's perfectly safe. Zonli electric blankets are ETL Certified and fitted with overheat protection which shuts them down if they get too hot.
How does the timer control work?
Our heated blankets come with an auto shut off timer option operated via the LED controller. you can choose between 1 or 12 hours.
How Do I Clean a Heated Blanket?
Our electric blanket is safe to be put in your washing machine as they have detachable controllers. The only thing the blankets themselves contain is the heating element wire which isn't affected by water, so you don't need to worry. However, to protect your blanket, we recommend using a gentle, cold (or 30°C) spin cycle. You should also take care when line-drying an electric blanket as the water weight can stretch the fabric. If the fabric gets too stretched, this can displace the heating elements and lead to hot and cold patches in your bed.