A Guide To Heated Blankets

Plug it in, adjust the settings, and wrap yourself in the warm embrace of the best heat blanket.

Main Text -
 On a frosty day, every bit of warmth helps, and for a restful night's sleep, it's especially important to be warm and cozy in your bed. An electric blanket is one of the best options for warding off the winter chill and getting really cozy in bed. Not only do electric blankets provide extra warmth, but they also offer many other great benefits.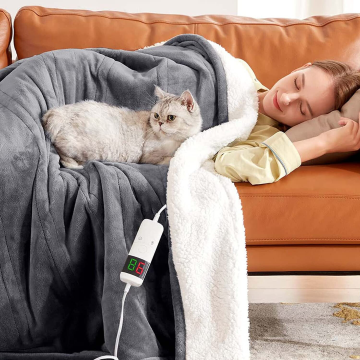 How Do Heated Blankets Work? 

Heated blankets are constructed with safe low-voltage technology. They are powered by an electric current that passes through the fabric. Thin wires run through the fabric that warms up the blanket and promptly transfer the heat to you. You don't have to worry about the wires poking you; you won't even feel them. The best queen-size electric blanket is made of soft micro plush fabric that will feel smooth next to your skin. You can select specific settings through your controller that will provide consistent warmth during a set period.

Adjust Settings For Optimal Warmth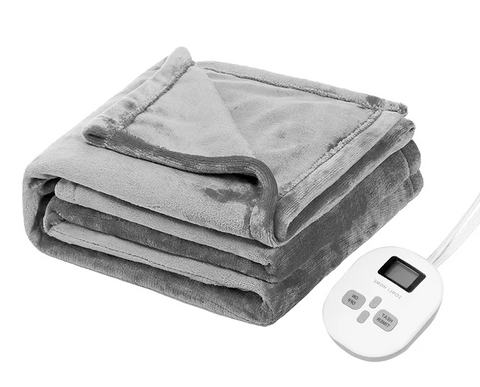 The best heated blankets come with a 6 to 12-hour auto-off controller so that you do not waste electricity all night once you've dozed off comfortably under your warm pile of bedding. It offers you four to ten personal heat settings to adjust the temperature according to your convenience. You can find a wide variety at the best heated blankets store.

Different brands of electric blankets have different temperature ranges, some will be a little hotter than others. You just need to decide which temperature range you feel is most comfortable for your body. But remember, hotter doesn't mean better. Super high temperatures, if not properly regulated, can burn your skin and can easily lead to overheating. Again, always refer to safety standards.

Why Use A Heated Blanket?

While there are many heating products out there, there are a few features you can be sure an electric blanket will have. These features set them apart from other heating products and ensure that you reap the benefits from using them.

Energy Efficiency- Electric blankets use little electricity, which makes them perfect for leaving the heat on overnight. Generally speaking, electric blankets don't cost much to run. Electric blankets cost about 50 cents to £1 per week to run, which is much cheaper than using only a central heating system.
With an electric blanket you can still turn the central heating down a few degrees even if it gets too cold in the winter. Over time, you will notice a significant reduction in your energy consumption.
Durability- A first-class electric blanket is a worthwhile investment. You don't have to worry about buying a new one any time soon, so it is more cost-effective in the long run. The life expectancy of a quality electric blanket can be extended if it is properly cleaned and stored.
Comfort- Electric blankets are designed with comfort in mind. It is designed to be worn while sleeping, so it is not advisable to experience any discomfort while wearing it. Heated blankets will prevent you from tossing and turning all night due to temperature changes, allowing for a better night's sleep. Many people also find that heated blankets help with many medical ailments, such as menstrual pains or arthritis symptoms.
In addition to this, electric blankets can help regulate humidity. Due to the way electric blankets warm the air, they can reduce humidity in the area they cover (for example, under a coverlet or between a coverlet and a duvet). Leaving an electric blanket running for a few hours a day can even reduce the presence of dust mites. A temperature over 60 degrees and an electric blanket left on for more than an hour will reduce dust mites.

How To Use A Heated Blanket Safely?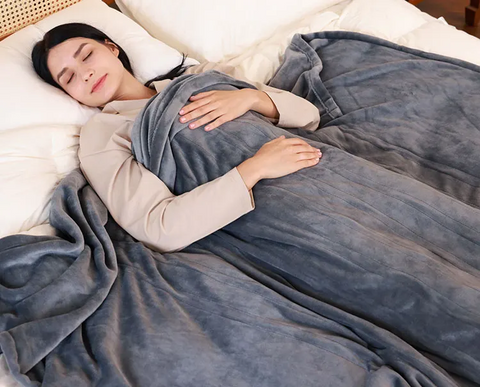 By following some heated blanket safety tips, you have nothing to worry about. Here's how you can use a heated blanket safely:
You should follow the manufacturer's instructions for care, washing, use, and storage.
Look out for dark spots that indicate burns. Dispose of the blanket if you find any.
It is in your best interest to get a heated blanket with an automatic shutdown feature so that you don't keep it running all day and night accidentally.
Use a heated blanket for your top level of bedding only, and ensure it lies flat to avoid any overheating areas.
Unplug the heated blanket every morning when you are not using it.
By following the instructions carefully, you can extend the life of your heated blanket and get a restful night's sleep for a relatively low price. Beyond automatic settings and consistent warmth, the highest quality heated blankets are machine-washable and dryer-safe.
A temperature over 60 degrees and an electric blanket left on for more than an hour will reduce dust mites.
Conclusion

All in all, used properly, electric blankets can provide good health, a sustainable lifestyle, and better sleep. This last one shouldn't be underestimated - good sleep habits can reduce the risk of serious illness, sharpen your mind, and improve your mood.

Electric blankets represent a simple but important step forward in improving our health and overall quality of life. Their simple design and accessibility is also a statement in terms of technology: these improvements should be available to all.
In an era of rapid cultural and social transformation, it can be easy to overlook simple solutions. But there's no need to complicate things - if you want to sleep better at night, literally and figuratively, an electric blanket is what you want.