Chunky Weighted Blanket
---
Description

Sleep amongst the clouds in pure heaven with the Chunky Weighted Blanket. This elegantly stitched blanket has a homemade touch to it that makes it feel even cozier. It's like a special blanket your grandmother made for you that's full of love, warmth, and cozy comfort. Throw the Chunky Weighted Blanket on your bed set and watch your room transform!

 Why You Need Our Chunky Weighted Blanket:

Core-spun chunky yarn fabric makes it durable, breathable, and machine washable

Weighted blankets help relieve stress by applying light pressure to your body as you sleep
Very comfy, soft, and cozy to wrap yourself in on a cool evening night

The loop pattern adds a good stretch and is easy to breathe through

Sleep in the clouds with our Chunky Weighted Blanket and order yours today!

P.S. If you want to learn more about the benefits of weighted blankets, please read our blog 6 unexpected health benefits of weighted blankets.
Years of iteration and highly specialized knitting technology helped us perfect the science and create our mindblowing fabric.

A natural way to help calm your body.

Maintains superior breathability and ventilation.

Hand knitted, unique beadless design, evenly distributed weight.

Cozy chic, suitable for a comfortable sleep.
Fall in love with sleep again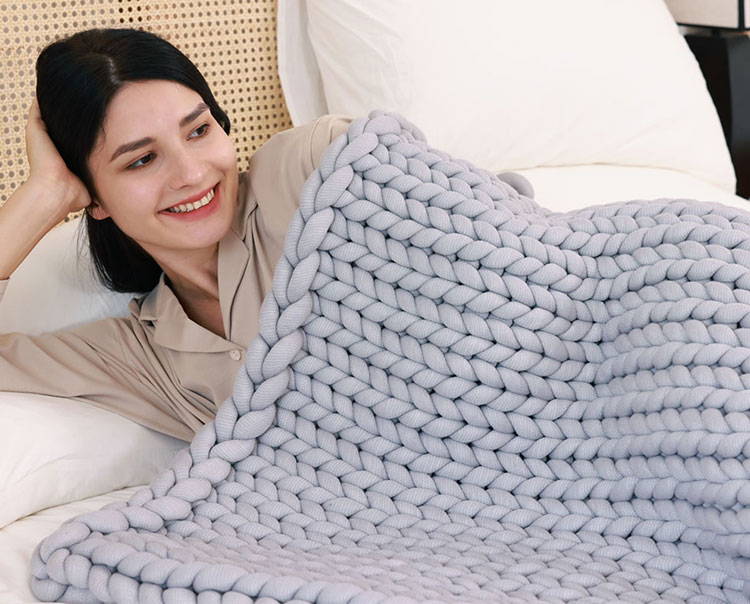 Less stress, better sleep, more joy
We've fixed everything wrong about traditional weighted blankets so that you can enjoy a better and longer sleep. Our Chunky Weighted Blanket is one part art, one part science and ten parts cozy.
Multiple benefits of weighted blankets include reducing stress, easing anxiety, and improving sleep. It feels like a warm hug from a loved one.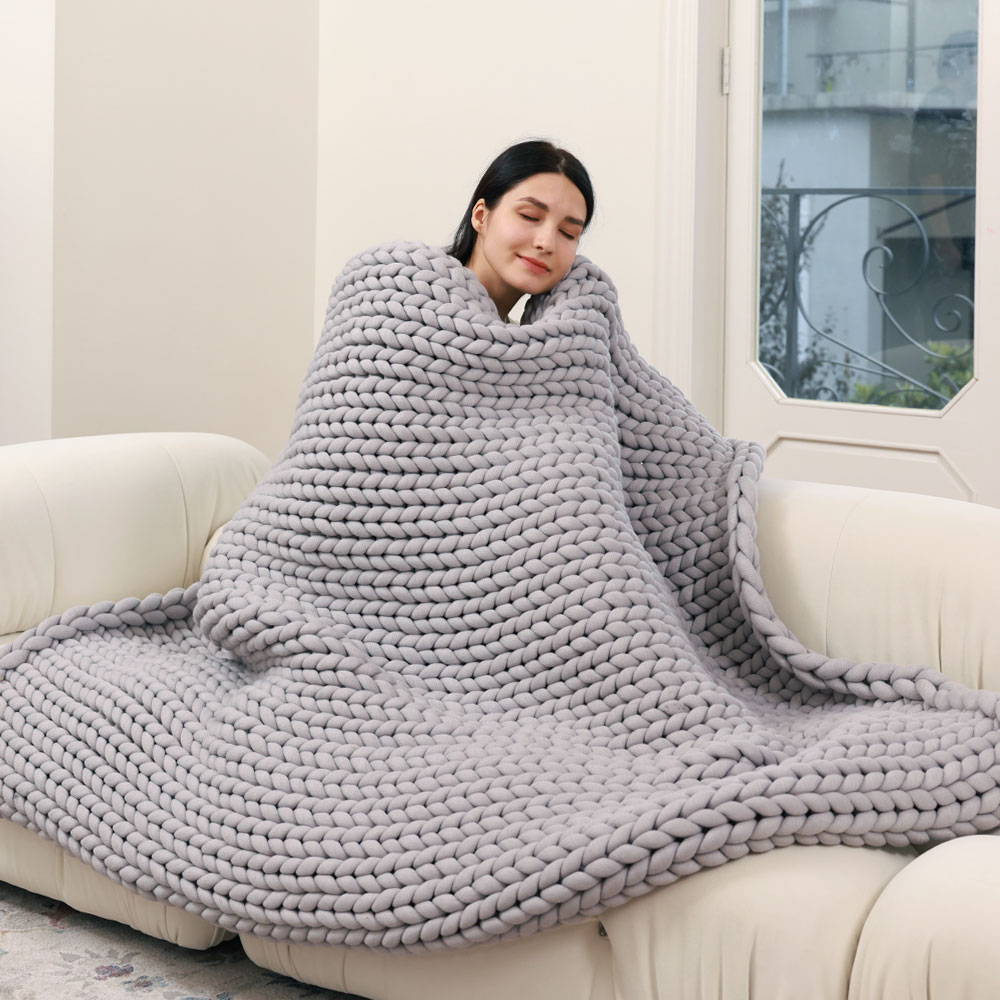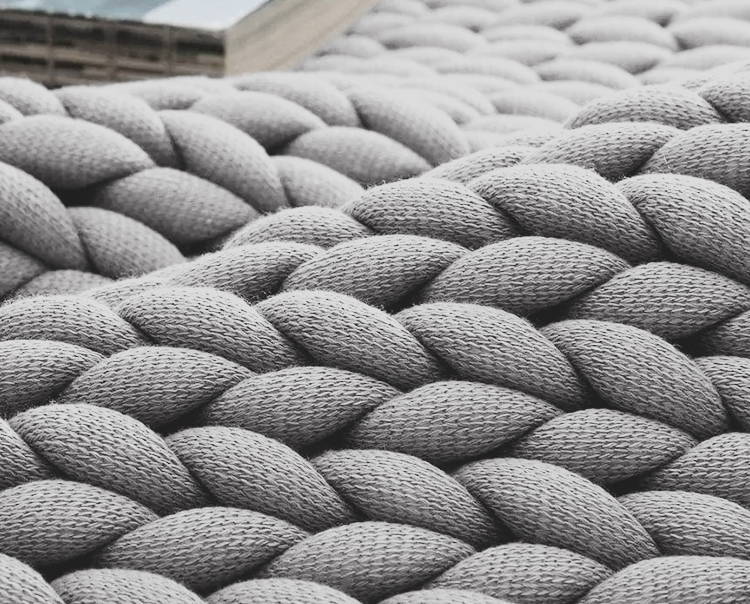 Better Materials for Longevity and Durability
Our version's playful, hand-made construction doesn't just look pretty: it's breathable and durable. Twisted polyester yarn filling, and acrylic knitted shell fabric that won't shed or pill over time.
Hand knitted & Better Breathability
Our weighted blanket is made from a beautiful hand knit design to ensure greater breathability when compared to conventional weighted blankets. Let your hair down and relax.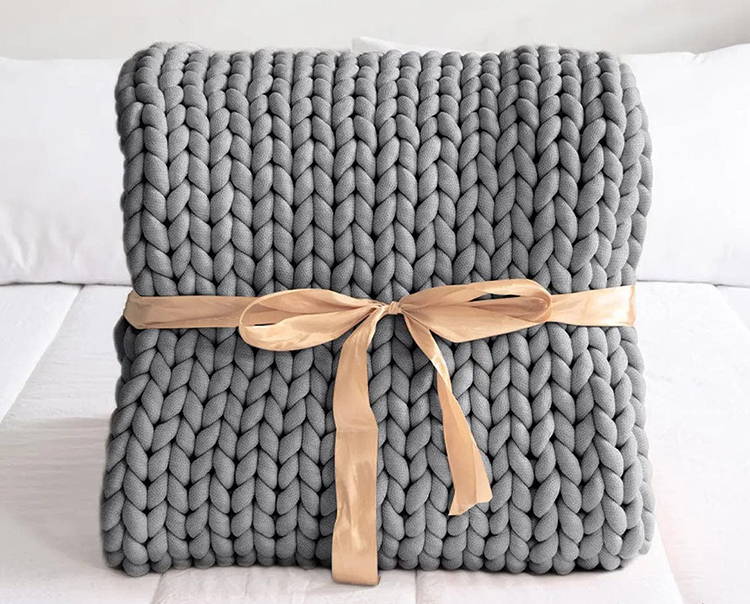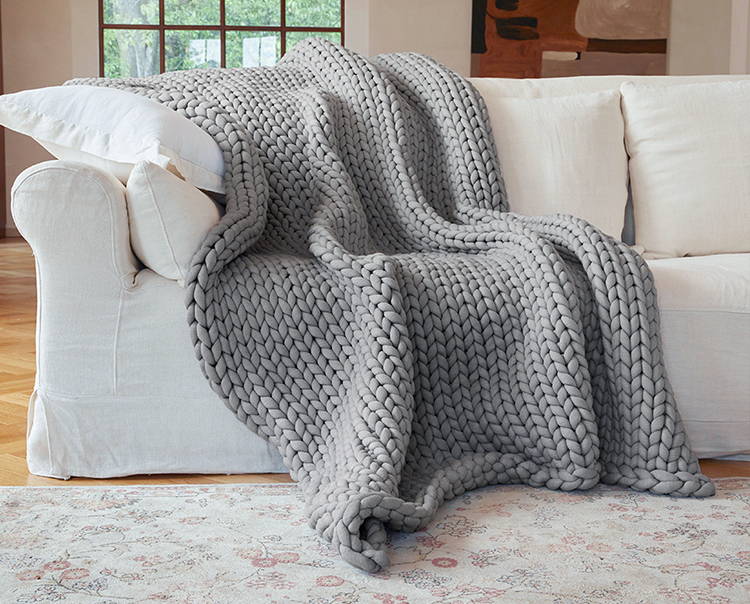 It was our goal to reinvent the weighted blanket. We hand knit our weighted blanket entirely from fabric, making it eco-friendly and perfectly breathable.
The fabric is durable and can be machine washed. Wash it with a laundry net bag and dry on lowest heat.