Why You Should Use A Heated Car Blanket for Road Trip?
Have you ever shivered from cold during a road trip? Even if your plans primarily involve watching drive-in movies, admiring holiday decorations or taking in the scenery, a heated car blanket is an essential car accessory to have on hand. The best heated blankets for car plug directly into your cigarette lighter or USB port, keeping you warm without draining battery power. For those living in cold climates, a heated car blanket is a game changer on frigid days and a safety precaution to ensure your car stays warm. In winter weather, a car blanket—especially a heated one—can be a real lifesaver.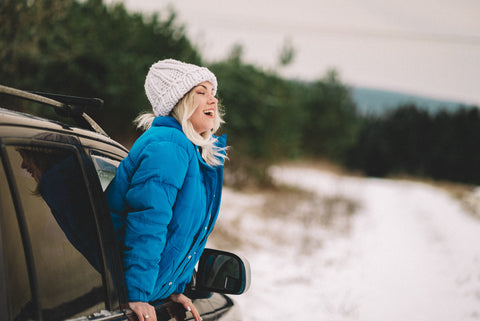 Are heated car blankets worth it?
Having a heated car blanket is essential for any driver in cold weather. Plug it into your car's 12V socket, and you'll be able to enjoy comfort and warmth on those cold days. Here's what an electric car heated blanket can do for you:
Its soft plush fabric and adjustable temperature setting will ensure comfort and warmth, which can help prevent fatigue while driving.
Using a car heating blanket also reduces the strain on your vehicle's heating system, meaning you don't have to turn the car heater up as high in order to stay warm - saving fuel and money.
It can also reduce visibility problems caused by cold weather, preventing build-up of frost and mist on the windscreen and side windows, and less snow, sleet or ice on the road.
And in road trips in the wilderness, where the car heater may fail due to prolonged exposure to low temperatures, a car heated blanket can prevent hypothermia and frostbite.
Overall, using a heated car blanket is an excellent way to make winter driving easier and more comfortable - for both you and your vehicle! Long winter drives are much more enjoyable if you and your passengers are kept warm and more enjoyable.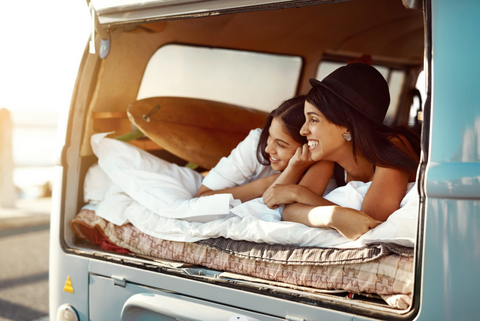 Do heated car blankets drain battery?
Heated car blankets that plug directly into your vehicle's 12-volt outlet or USB port are the best choice for keeping you warm without draining the car's battery. With a capacity of 1.25 kWh, a 12-volt car battery can provide power for a car blanket for up to 9.25 hours. To avoid draining the vehicle's battery, look for a heated car blanket with an automatic shut-off feature or opt for a cordless heated blanket with batteries.
How to pick the best heated car blanket?
Finding the best heated car blanket for your vehicle depends on its purpose. For example,  if camping in your car, choose an oversized blanket that provides enough warmth. For a winter road trip, prioritize a blanket with a high heated temperature. For emergency safety, select a cordless battery blanket. When choosing the best heated car blanket, consider the following key features:

Size- If you need a heated car blanket to cover your whole body, buy one at least 58" x 42". For family or multiple people, king or queen-size is most suitable. If the blanket is for kids, car seats, or pets, a smaller size should work.
Materials-When choosing a heated car blanket, consider the specific use scenario. Soft synthetic wool is a popular choice for its comfort and durability, while polyester and waterproof fabrics may be more suitable for certain applications. Keep in mind the amount of wear and tear the blanket will receive, as well as the climate it will be used in to find the best material for the job.

Cord length-The best 12-volt electric blankets should have a cord that is at least 6 feet long, and preferably come with a 36-inch extension cord, allowing you to plug the product into a distant outlet and use it in the back seat of a passenger vehicle or the sleeping compartment of a tractor trailer.

Temperature settings-If you're looking for a range of heating options, a plug-in car blanket with dual temperature settings (high and low) is a great choice. You can find car heating blankets with more temperature settings, giving you more control over the temperature. However, 12v car heating blankets usually don't have as many temperature settings as 220v home electric blankets.

Automatic shut-off-The auto shut-off feature can be enabled when the temperature is too high or after a pre-determined duration, like 15 minutes. This allows you to sleeping in your car without having to be concerned about turning it off. Furthermore, it won't drain the car battery nor affect your safety.

Power connection- When choosing a heated car blanket, pay attention to its power connection. An Auxiliary Power Outlet means that you can only heat the blanket using your car battery while on a trip. To save car power and use the blanket out of your car, a cordless heated blanket with a rechargeable battery is an ideal choice.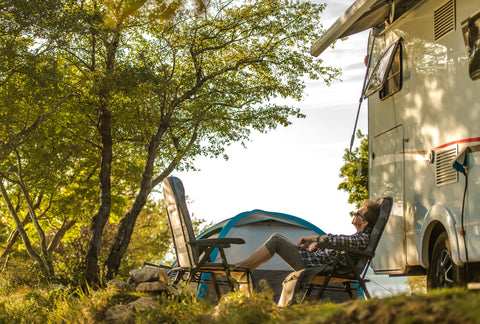 FAQ:

Q: How long does it take for a heated car blanket to heat up?
A: It depends on the product. Some heated car blankets will start to warm up 2 minutes after you plug them in. Some take ten minutes to reach the desired temperature.
Q: How long will a heated car blanket last?
A: A heated car blanket can last up to three to five years when used as directed and according to the manufacturer's instructions. To ensure maximum lifespan, make sure to follow the instructions carefully.
Q: Will a heated car blanket retain heat after it is turned off?
A: The electric blanket differs from a regular car blanket in that it can store and retain heat for a short period of time after it is switched off. Depending on the model, some electric blankets can stay warm for up to 20 minutes before they start to cool down.
Q: Are heated car blankets safe?
A: Heated car blankets that have an off timer are designed to ensure the safety of the user by preventing the blanket from becoming too hot. However, if the heated blanket is left on for an extended period of time without being monitored, it can put the user at risk for potential problems..
Q: Do heated car blankets stay on when the vehicle is turned off?
A: This depends on what type of 12-volt plug your vehicle has. Some plugs will only function when the vehicle is turned on or placed in accessory mode. If the blanket itself has an included battery, then the blanket will stay on even when the vehicle is off.

Q: How much power does a 12v heated blanket use?
A: The power consumption of a 12v heated blanket varies, depending on the size and quality of the blanket. Generally speaking, a 12v heated blanket will use between 20 and 50 watts of power.
Q: Can I put a heated blanket on my car engine?
A: No, it is not safe to put the heated car blanket on a car engine. These blankets are designed to warm people, not machines. Car engines produce a lot of heat and the blanket could be damaged or even cause a fire if it got too close to the engine.
Q: Can I leave a heated car blanket plugged in all night?
A: No, it is not safe to leave a heated car blanket plugged in all night. The blanket could overheat and cause a fire. What's worse, charging a heated blanket with car battery for too long time will damage the car battery. It's suggested that to unplug the blanket after 2-3 hours heating.