Ultimate Guide to Cooling Weighted Blankets In 2023
If you are a hot sleeper, there's a huge chance that you have already ditched the idea of using a weighted blanket. Weighted blankets are known for their therapeutic effects, specifically on sleep quality and anxiety relief. However, as a hot sleeper, you might think that they're not ideal bedding as you'll likely end up sweating more at night. 
The good news is that you don't have to worry anymore. There are now breathable and cooling alternatives available on the market. This is where cooling weighted blankets come into play. 
This article will define cooling-weighted blankets and explain how they differ from normal ones. We'll also explain the most critical factors to consider to help you learn how to choose the best-weighted blanket and help you become a more informed consumer before making your purchase.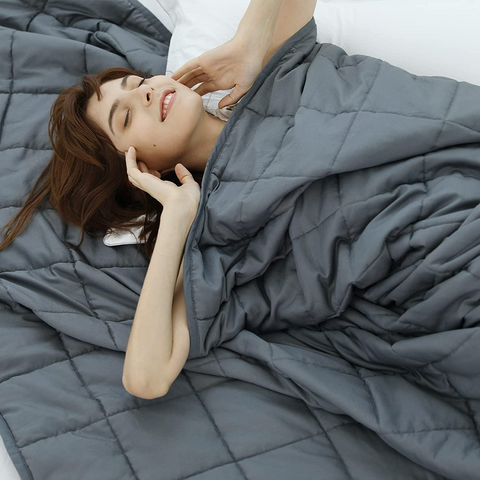 What is a cooling weighted blanket?
Cooling weighted blankets are made from breathable materials and designed to prevent overheating. Typical materials used in cooling weighted blankets include glass beads, lyocell, viscose, cotton, and bamboo, all of which are known for their temperature neutrality.
Weighted blankets use glass beads, granules, or other materials to create a feeling of heaviness and comfort. Most of these blankets weigh between 5 and 30 pounds, which is much heavier than a typical blanket or duvet. This feeling is often compared to the weight of a shield placed on you by a dentist during an x-ray. Some people describe the feeling as being hugged, much like a wrapped-up baby. These blankets are believed to promote sleep by triggering the release of relaxation hormones. While research on the physical effects of weighted blankets is inconclusive, many users have found that heavier materials can alleviate problems such as anxiety and insomnia.
Some weighted blankets may trap heat due to their thicker material, which can be a problem for sleepers who wish to benefit from their calming effects without feeling uncomfortable. Those who struggle to sleep under a standard weighted blanket, manage stress, and stay cool could benefit from a cooling weighted blanket.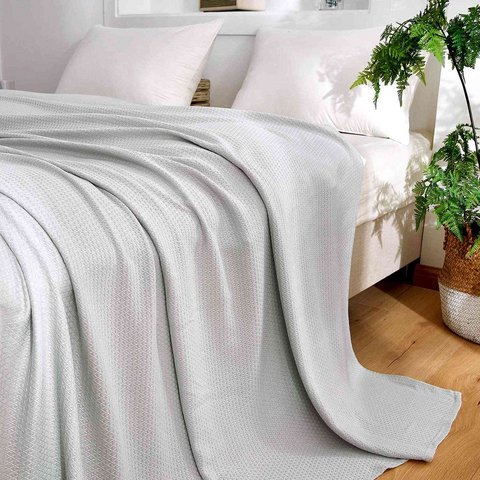 Why You Should Get A Cooling Weighted Blanket
As an "upgraded version" of a typically weighted blanket, a cooling weighted blanket pairs the benefits of added weight with the comfort of a temperature-regulating blanket. So, can cooling blankets help you sleep? The answer is almost always yes! Here we'll take a look at some of the pros of cooling weighted blankets: 
Improve sleep quality
Several factors can cause sleep disorders. Weighted blankets can help in some simple ways. The added pressure may help to calm your heart rate and breathing. This may make it easier to relax before you settle in for a good night's rest.
Improve your bedroom microclimate 
Cooling weighted blankets can be a comfortable and relaxing addition to the bedroom. The material used in cooling blankets is not only excellent at keeping you cool and dry but is also anti-bacterial, anti-static, and hypoallergenic. A cooling weighted blanket will provide you with your optimal microclimate. As you snuggle under the soft blanket you can be sure that it has been designed to keep you at the best temperature for sleeping (between 60 and 67 degrees Fahrenheit). Your body temperature naturally drops when you sleep.
The fabric is usually designed for breathing and wicking away moisture – so you are not left in a puddle of sweat when you wake up. You can find more detailed information on the breathability and moisture control of weighted blankets in different fabrics.
Reduce stress and anxiety
One of the primary uses of a weighted blanket is for the treatment of anxiety. There are many health benefits of a weighted blanket, not least in the feeling of relaxation you experience. The body responds to this by releasing two hormones that act on the brain - dopamine, and serotonin. These have a calming effect that reduces anxiety and stress. It also lowers the level of cortisol, which, if it stays high overnight has deleterious effects on your health.
Relieve the perception of pain
Chronic pain is a challenging diagnosis. But people who live with chronic pain may find relief through the use of weighted blankets. The gentle but firm pressure of a weighted blanket can be very soothing. It helps to ease the pain these sufferers often experience. When they manage to get a better quality of sleep, it also helps alleviate chronic fatigue. Then they can cope better during the day.
A 2021 study done by researchers at UC San Diego found that weighted blankets reduced perceptions of chronic pain. Ninety-four participants with chronic pain used either a light or a weighted blanket for one week. Those in the weighted blanket group found relief, particularly if they also lived with anxiety. The weighted blankets did not reduce levels of pain intensity, though.
How to Choose a Cooling Weighted Blanket
With the recent popularity of weighted blankets, narrowing down your options can be a challenge. We will discuss some of the key factors to consider when shopping for the right cooling weighted blanket.
Price
A high-quality cooling blanket costs between $100 and $300. Weight, size, material, and brand affect the overall cost. While high-quality materials usually cost more, they also tend to be more durable, which can make them a better long-term investment. When calculating the price of a blanket, remember to consider the cost of shipping or choose brands that offer free shipping.
Material
When shopping for cooling weighted blankets, it's essential to choose moisture-wicking and breathable materials, like bamboo, Tencel, and cotton. As a result, these materials maintain a neutral temperature by allowing airflow and/or wicking moisture from the sleeper's body.
One of the most important factors is making sure that the material itself promotes a cooling environment. Some regular weighted blankets might be able to help promote feelings of relaxation, but they could also trap heat. It's advisable to wear something breathable and avoid fabrics that retain heat such as nylon.
As weighted blankets are intended for year-round use, cover materials can be silky-smooth, Minky, or anything in between. You can also add a removable duvet cover to change the feel.
Weight
Generally, you should look for a weighted blanket that's between 5 and 12 percent of your weight. A blanket that is about 10% of your body weight is enough to provide enough pressure to promote relaxation without feeling claustrophobic. For example, a 200-pound individual will likely feel most comfortable with a 20-pound blanket. Not all models are available in all weights, so this is something to keep in mind before getting your heart set on a specific blanket.
Filling
Weighted blankets can be filled with sand, plastic pellets, glass beads, and more. Glass beads are best for hot sleepers because they don't conduct heat. If you dislike the conventional look of a weighted blanket, you can also opt for a knit option like the Zonli chunky weighted blanket. In our testing, we found that the woven structure allows for better air ventilation, which keeps you cool at night.
Ease of cleaning
Weighted blankets can be problematic to maintain due to their bulky build and potentially delicate fill. Always check the manufacturer's instructions for details on how to care for your cooling weighted blanket (Many cooling weighted blankets can be washed and dried in a machine, but some weighted blankets can only be spot cleaned or dry-cleaned.) If you anticipate needing to wash your blanket regularly, ease of cleaning may be an appropriate consideration. Following the manufacturer's guidelines can help you extend the life of your blanket and prevent early wear and tear.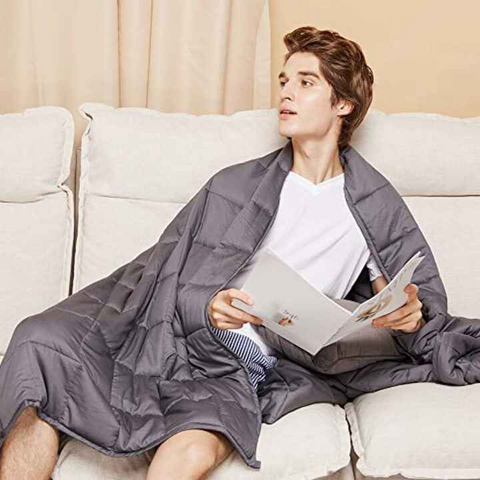 Why Zonli Is The Perfect Cooling Weighted Blanket For Hot Sleepers
As a company that has been selling and manufacturing blankets for seven years, we are dedicated to creating the most comfortable blanket for our customers. 
In contrast to conventional blankets that cool, ours incorporate temperature-control technology into the structure. Our blankets are made with bamboo viscose to encourage and promote airflow, making them more comfortable and breathable, particularly on hot summer nights. Despite their weight, our blankets have seven layers so beads cannot leak. Furthermore, Zonli chunky weighted blanket uses an open-knit weave design to keep weight evenly distributed, providing maximum comfort and coziness. 
And did we mention that our blankets are machine washable? Zonli cooling weighted blankets have been tested for different washings, so you don't have to worry about fraying and damage. 
So, if you are a hot sleeper searching king for weighted blanket alternatives that you can use in the upcoming summer, the Zonli cooling weighted blanket is the perfect choice for you.