Camping with Kids: Tips and Activities for a Family-Friendly Outdoor Experience
Camping offers an excellent opportunity to create lasting memories and immerse your kids in the wonders of nature's beauty. Yet, its benefits extend far beyond that.
Research
 indicates that outdoor experiences can heighten children's environmental awareness and aid in stress management, reducing irritability and boredom. 
While camping with your kids is certainly feasible, it demands careful planning and preparation. Before you embark on this adventure, we will provide insights into diverse campsites, essential supplies, and enjoyable camping activities. Our goal is to ensure you relax, relish quality family time, and forge cherished memories of camping with your kids. 
Choosing the right campsite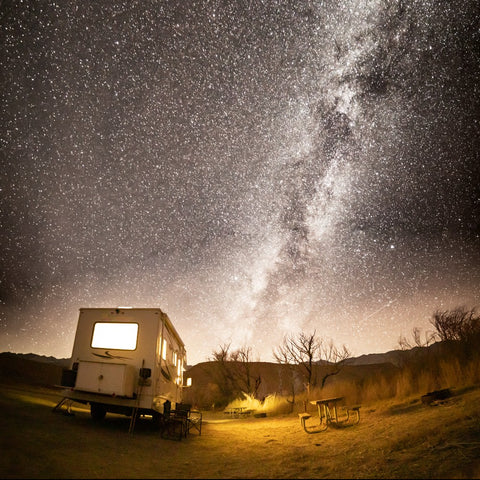 When camping with your family, there is a wide range of campsites to consider. To make the best decision, carefully assess your needs and preferences before selecting the campsite and setup that suits you. 
If it's your first time camping with kids, it's advisable to avoid isolated sites and opt for places with other campers nearby. This way, you have assistance readily available if needed, as fellow campers are usually willing to help out. Choosing a location close to your home or within your town allows for a quick return if the camping experience doesn't go as expected. 
For those with prior camping experience with children and a willingness to explore further, thorough research on the chosen camping site is essential. Understand the local wildlife, be aware of mosquito/tick or rattlesnake seasons, and identify nearby poisonous plants to take necessary precautions in advance. 
Here are some campsite for your camping with kids: 
Family-Friendly Campgrounds:
Look for campgrounds that are specifically designed for families. These sites often offer amenities like playgrounds, bathrooms with child-friendly facilities, and designated areas for kids' activities. 
State or National Parks:
 Many state and national parks have designated family camping areas with easy access to hiking trails, nature walks, and educational programs tailored for kids. 
Campsites near Water:
 Kids usually enjoy camping near lakes, rivers, or beaches where they can swim, play in the sand, or engage in water activities like fishing or paddling. 
Forest Campgrounds:
 Camping in wooded areas provides children with opportunities to explore nature, observe wildlife, and participate in scavenger hunts or nature-themed activities. 
Campgrounds with Ranger Programs:
 Some campgrounds offer ranger-led programs for kids, which can be educational and entertaining at the same time. 
Car Camping Sites:
 Car camping sites, where you can park your vehicle near the campsite, are more convenient for families with young kids, as they allow easy access to supplies and can serve as a safe retreat if needed. 
Campgrounds with Facilities:
 Look for campgrounds that have clean restroom facilities and potable water sources, making it easier to handle basic necessities with kids. 
Sites with Short Hiking Trails:
 Opt for campsites with short and easy hiking trails suitable for kids. This way, they can experience the outdoors without becoming too tired or overwhelmed. 
Take the essential gear and supplies
Packing for a family camping trip can be overwhelming due to the plethora of choices available, even for seemingly simple items like sleeping bags and air mattresses. It's crucial to be well-prepared to avoid turning a fun experience into a disaster.
 
To ensure a delightful time for everyone and reduce stress for parents, we have prepared a comprehensive checklist for your camping trip with the kids. Take a moment to review it before you embark on your adventure, so you'll have a clear understanding of what essentials to pack.
 
Tent: Opt for a spacious and durable tent, made from Ripstop Nylon or Canvas with Waterproof Coatings, to ensure comfortable accommodation for your family. If you're facing budget constraints, renting a tent is also a practical and viable option.
 
Sleeping Gear: Bring sleeping bags or camping pads for each child. Consider their comfort preferences and let them try both sleeping bags and camping pads to see which they prefer. Choose a sleeping bag that fits your child well and offers safety features like easy-to-use zippers and draft collars. Opt for durable, easy-to-clean, and child-safe materials. If hiking, prioritize lightweight and portable options.
 
Clothing: Pack appropriate clothing for various weather conditions, including rain jackets, warm layers, and extra socks.
 
Extra blankets: Extra blankets always help camping trip, regardless of the weather. Use them to create a clean spot on the ground, provide extra warmth during chilly nights, or add padding between your sleeping bag and the ground. Consider a portable heated blanket, specifically designed for outdoor camping, offering the advantage of being wall outlet free. With these blankets in your gear, you can ensure a cozy and comfortable experience for your family during your camping adventures.
 
Food and Snacks: Bring a variety of easy-to-prepare and kid-friendly meals and snacks. Don't forget utensils, plates, and cups.
 
Water: Carry sufficient water for drinking, cooking, and cleaning.
 
Maps and Navigation: Have a map of the camping area and a compass for navigation.
 
First Aid Kit: Include basic medical supplies like band-aids, antiseptic wipes, pain relievers, and any specific medications your kids might need.
 
Lighting: Have headlamps or flashlights for each child to help them navigate in the dark.
 
Insect Repellent: Keep bugs at bay with child-safe insect repellents.
 
Sunscreen: Protect your kids from the sun with sunscreen and sun hats.
 
Camping Chairs: Bring foldable camping chairs so that kids have comfortable seating around the campfire.
 
Entertainment: Pack some books, games, or toys to keep kids occupied during downtime.
 
Wet Wipes and Hand Sanitizer: Keep hands clean, especially before meals.
 
Trash Bags: As families embark on their camping adventures, it is crucial to be responsible stewards of nature, leaving no trace and using sustainable practices. Involving kids in proper waste management by using trash bags teaches them about the importance of responsible behavior and caring for nature.
 
Plan camping activities for kids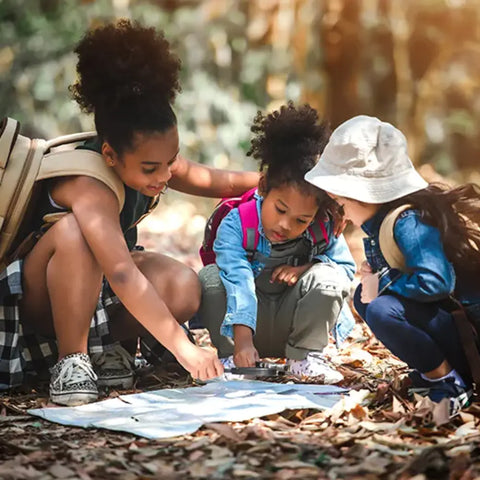 Camping with kids is a joyful experience when you plan and prepare in advance! After selecting your preferred campground - national park, state park, public, or private - it's time to organize some exciting camping activities for your little ones. These fun-filled activities are sure to create lasting memories that your family will cherish forever.
Nature Scavenger Hunt:
 Create a list of items for the kids to find in nature, such as pinecones, specific leaves, animal tracks, or rocks of various colors. This activity encourages exploration and observation of the natural surroundings. 
Campfire Stories:
Gather around the campfire and take turns telling stories. Encourage creativity and imagination as kids share their tales, spooky or funny. 
Stargazing:
 On clear nights, lie down together and gaze at the stars. Bring a stargazing guide to identify constellations and planets. 
Nature Art
: Let the kids express their creativity by making art using materials found in nature, such as leaf rubbings, rock paintings, or twig sculptures. 
Hiking:
 Plan family-friendly hikes suitable for the kids' abilities. Enjoy nature walks and encourage kids to spot plants, animals, and interesting sights along the way. 
Outdoor Games:
 Pack outdoor games like frisbee, soccer, or tag to keep kids active and entertained. 
Campfire Cooking:
 Involve the kids in preparing simple campfire meals or snacks, like roasting marshmallows for s'mores. 
Bird Watching:
 Bring binoculars and a bird identification guide to spot and identify different bird species in the area.
Nature Journaling:
 Encourage kids to keep a nature journal where they can sketch and write about their observations and experiences. 
Planting Seeds:
 If camping in a permitted area, let kids plant seeds in a small garden or container and watch them grow over time. 
Stream Exploration:
 If camping near a stream, let kids explore the water, search for small creatures, and learn about the ecosystem.
Conclusion
In the end, camping with kids is a journey of discovery, growth, and connection. By embracing the joys of the great outdoors and nurturing a love for adventure, families can forge lasting bonds and create a tradition of cherished camping experiences. So, gather your camping gear, plan your activities, and embark on a family-friendly outdoor adventure that will create memories to last a lifetime.