Minky Weighted Blanket Duvet Cover- Green
Regular price
$79.99
Sale price
$39.99
/
---
In stock, ready to ship

Inventory on the way
Product Info: When it comes to getting the best in regards to quality bedroom accessories and healthy sleep, bringing you the best quality you deserve has been our top priority. Our product, Zonli Weighted Blanket Cover is made just for you because we want to help you preserve your weighted blanket to ensure it maintains its unique feel and fluffiness.
It's a perfect addition to your bedroom accessories as our Weighted Blanket Cover is made with durable and breathable fiber which ensures that your blankets are in perfect condition in times of use and not. You are treated to a nice time under the covers to get that relaxing beauty sleep that you deserve. Tailored by professionals highly skilled in high-density sewing technology, we've got blanket covers that makes your sleep a very memorable one. As humans, we are drawn to items of aesthetic quality and works of art and that's why our blankets are created with unique and creative designs and patterns better suited to give your blankets and bedroom that luxurious and comfortable look you only see in castles.
Our Blanket Covers come in different size categories for various types of weighted blankets. Thus, our covers are created with the best materials with you in mind to bring you value and comfort and ensure that your blankets give you the nature of sleep you need. It's a perfect fit for all weighted blankets.
Weighted Blanket Covers are created for Weighted Blankets, thus it's only proper to have a suitable cover for your blanket to ensure your blanket stays free from stains from food and drinks if you decide to maybe have breakfast in bed or probably from makeup if you come home bushed and just crashed without washing off. Our Weighted Blanket covers give your blanket the best protection and care that is deserving of a world-class Weighted Blanket. It's also easily removable, washable, and dries speedily so you don't have to worry about the weather.
Most individuals do not see the need of getting a blanket cover to compliment the Weighted Blanket, but it's very essential to maintaining the durability of the blanket especially if you do not wash it all the time. You could just fold and package the blanket inside the cover after use to prevent it from getting dirty and all. It's a good way to ensure that you sleep like a baby; relaxing, deep, and cool soothing sleep. Trust me, this blanket cover is a must-have.
Design Concept: Produced with ultra-soft and highly breathable fibers like cotton, the Weighted Blanket Covers are created with 100% cotton and incorporate a 300 thread count that features 6 custom-designed patterns to give it its unique aesthetic design. Its cotton fibers give it a level of good breathability to ensure the weighted blanket maintains its soft texture and its ability to provide warmth in cold times and a cool feel in the summertime. Thus, it's also great for the outdoors if you prefer to spend time with family and friends. It's durable and provides a comfy feel if you compare it with some synthetic materials due to its natural and pure cotton fiber materials and its ability to remove moisture.
Our Weighted Blanket Covers are hypoallergenic if you worry that it might have an irritation to your skin, they also last very long, so you don't have to think of purchasing another one in a long while.  The cotton cover is made from natural and pure cotton material, compared to most synthetic fabrics out there. Hence, it's a natural airy feel.
It comes with an up-to-date zipper fastening system to ensure the weighted blanket is nicely secured to the blanket cover. The features involve a collection of ties and elastic-button connectors. It's really handy so you won't need to worry about it falling away.
Our Weighted Blanket Covers are quite easy to wash and due to their exquisite feel, and comfy softness, it's better to machine-wash separately in a gentle cycle using cold water. This is to make sure the covers do not fade or change their original colors which makes it classy looking. The weighted blanket cover requires a low tumble dry after washing for the maintenance of its natural fluffiness and original smoothness.
Suitable For: Our Weighted Blanket Covers are suitable for any size or weight of blankets. If you wish to get a weighted blanket, be sure to add on a blanket cover to ensure its durability. It's perfect for both indoor and outdoor activities, for individuals with sleep disorders, or folks who want to give their bedroom a touch of class and comfort.
Although healthy sleep isn't the only benefit of blanket covers, they have through research been reported to improve mood and lessen depression and serve as perfect companions.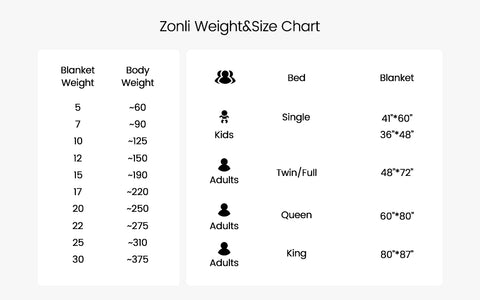 We offer FREE US shipping for orders over $30.

For most locations within the US, the shipping time is around 5 business days, but remote areas might take around 7-10 business days.

The shipping time for other countries and areas is around 7-14 days.
We are so sorry that your item arrived damaged, defective, or wrong! Please notify our customer service at cs@zonlihome.com within 48 hours of receiving your item, to initiate a claim. Please include the following information in your claim:
•  Which item is damage
•  An image of the damage
•  Note if you do or do not have the original packaging
•  What outcome you'd like for your claims (i.e. replace, repair, or refund)
•  A description of the damage