Orange Chunky Weighted Blanket
---
Description

20% OFF For Orders Over $100!

 

Orange Chunky Weighted Blanket: A Must-Have Item

With the orange chunky weighted blanket from Zonli, you'll feel like you're sleeping on a cloud. This handmade blanket feels cozy and comfortable. It's like a blanket your grandmother made for you, full of love and warmth. Throw it on your bed with other set items to transform your room and give it a warm yet elegant touch.

A Stylish Weighted blanket: Made Of The Highest Quality Material

Our orange chunky weighted blanket is made of a core-spun bulky yarn fabric, which is durable, breathable, and machine washable. It provides light pressure as you sleep to help relieve stress. Drape yourself in this beautiful chunky weighted blanket on a cool evening and get a relaxing and pleasurable sleep.

The Perfect Chunky Weighted Blanket For You

Poor sleep can affect your brain and body negatively, but Zonli knows what can bring peace and relaxation to your body and mind. Our orange chunky weighted blankets are ultra-soft and cozy, and their loop pattern adds a nice elasticity and makes it simple for you to breathe through.

Snuggle In And Feel The Difference

Our orange chunky weighted blanket will provide you with an incredible sleeping experience. A unique chunky knit design that is simply beautiful to look at, its soft plush will allure you to wrap it around, its smooth surface will effectively relax you down, and its stunning appearance will gently calm you down.

A Great Addition To Your Home

This orange-colored blanket is perfect for any and every home. If you need a pop of color in your home, the orange chunky weight blanket from Zonli is the best choice. Order yours today!



The material we offer has resulted from extensive research and advanced knitting techniques.

Buying this item will be a great present for a family or friend; purchasing this item is a natural way to help you relax and get a night of better sleep.

The holes provide excellent airflow and ventilation because they allow unrestricted airflow.

Hand knitting guarantees even weight distribution through the unique beadless design.

This large blanket can hold a couch, sofa, or bed and is suitable for afternoon naps.
Fall in love with sleep again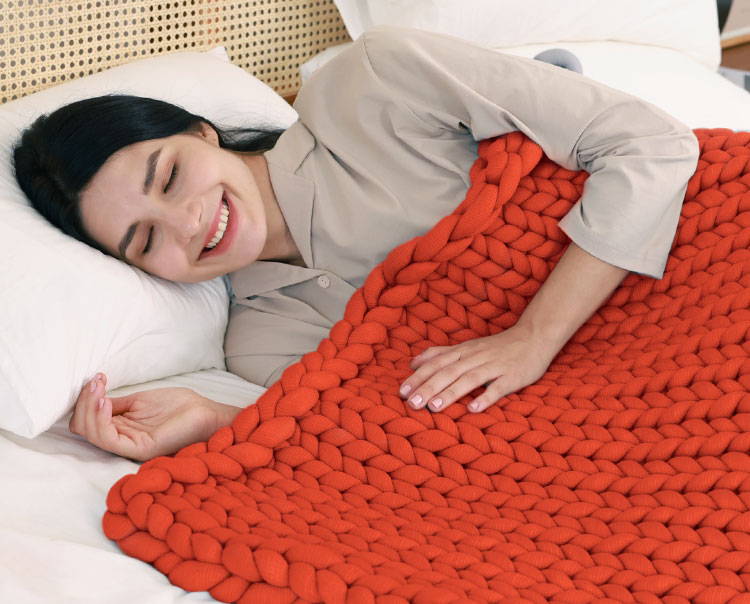 Less stress, better sleep, more joy
All the shortcomings of standard weighted blankets have been rectified, so you can sleep more soundly and for longer. Our Chunky Weighted Blanket combines beauty and science to produce a pleasant, comforting experience.
A weighted blanket can help people sleep better, reduce stress, and ease anxiety. Weighted blankets provide the same comforting sensations as a loving embrace.
Better Materials for Longevity and Durability
This durable, non-shedding blanket is made from twisted polyester yarn and acrylic knit shell material to keep you warm and comfortable.
Hand knitted & Better Breathability
Our weighted blanket provides superior breathability to regular weighted blankets thanks to its beautiful hand-knitted design. Don't put up your hair and unwind.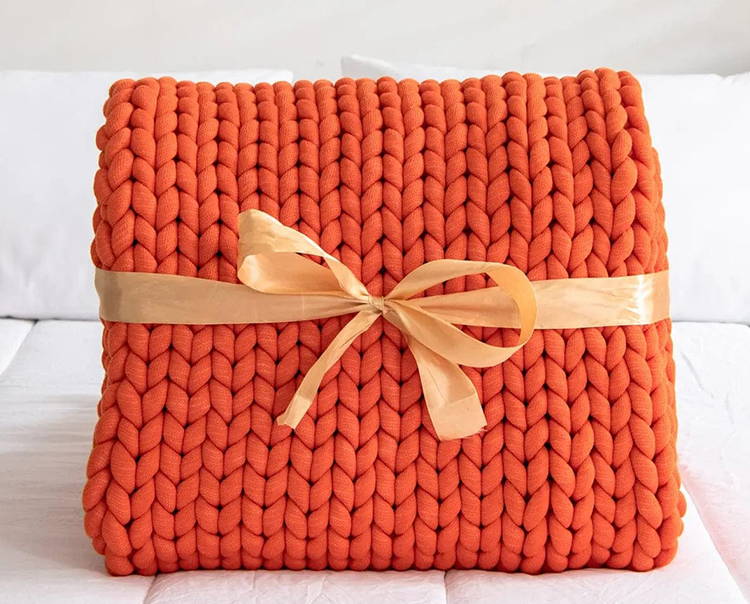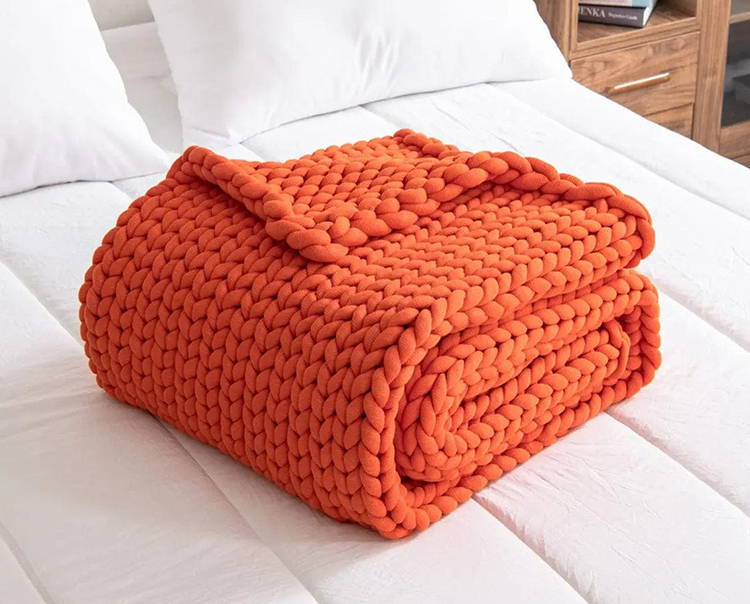 Our goal was to reinvent the weighted blanket. We made a handmade, eco-friendly, breathable weighted blanket using this material.
This material can be machine washed. To get the best results, use a laundry net bag and dry it on the lowest heat.